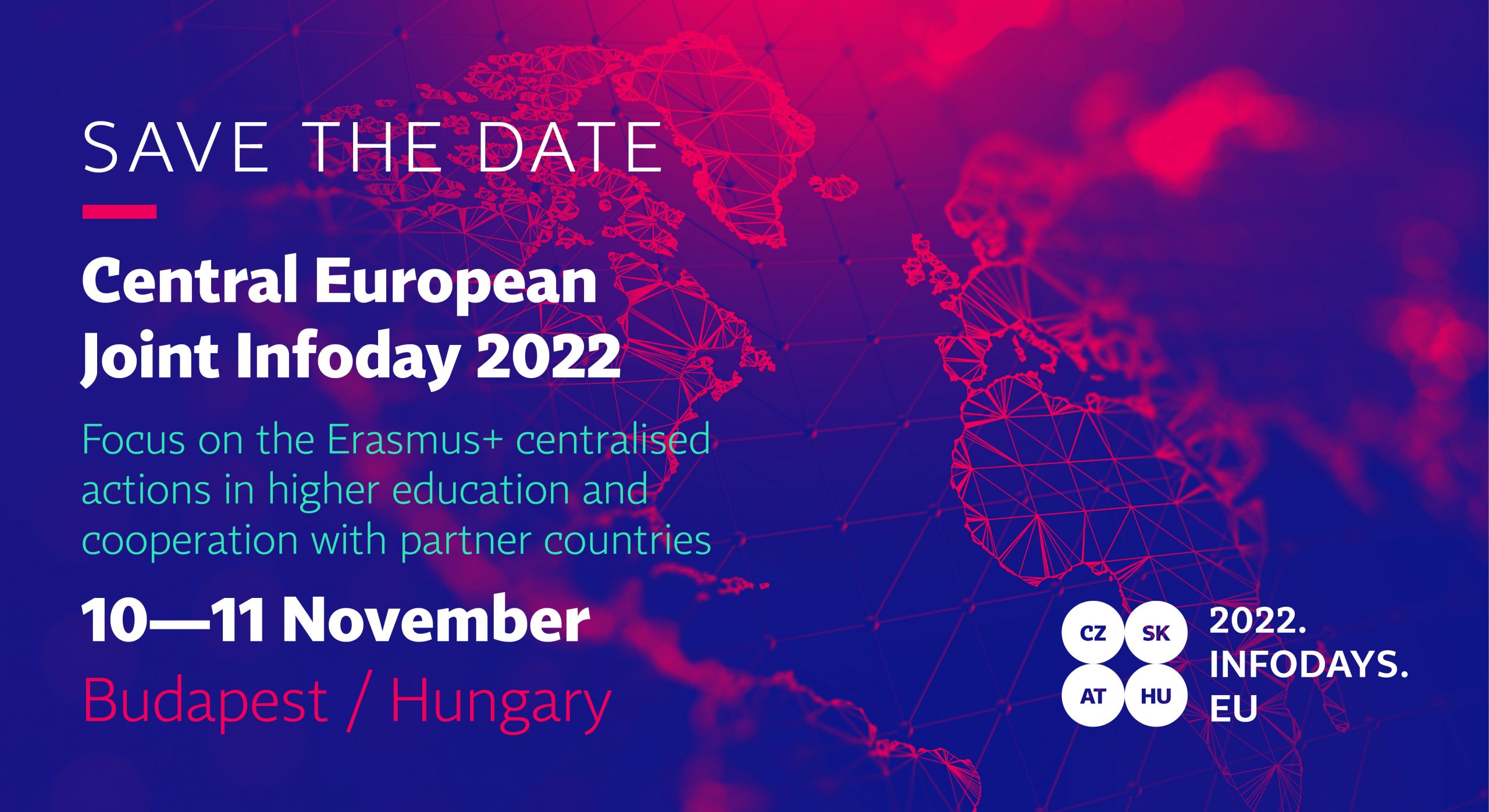 About the event
The Central European Joint Infoday is organised by Erasmus+ National Agencies from four neighbouring countries: Austria, Czechia, Hungary and Slovakia. This time, the common event will take place in Budapest on 10–11 November 2022. The Infoday is set in the context of the Erasmus+ Call for Proposals 2023 and focuses mainly on the international dimension of the programme, i. e. actions supporting cooperation between Programme and Partner Countries in the higher education sector.
The following actions will be covered:
Erasmus Mundus (Joint Masters and Design Measures)
Capacity Building in Higher Education
Jean Monnet (Chairs, Modules, Centres of excellence and Networks)
These centralised actions, managed by the European Education and Culture Executive Agency (EACEA) in Brussels, will be introduced within thematic sessions. Theoretical background, objectives and priorities of each action as well as practical aspects of project preparation and implementation will be presented building on presentations of good practice examples. The plenary presentations will introduce other centralised actions such as the European University Alliances, Erasmus+ Virtual Exchanges, Alliances for Innovation, where participants can share and discuss their experiences regarding the programmes.
Participants will also have the opportunity to meet representatives from the European Commission, EACEA and National Erasmus+ Offices, whose members will explain priorities of their respective countries/regions relevant for future project proposals.
Through in-depth practical presentations and discussions, the organisers expect to provide encouragement and practical support to potential applicants under the next Erasmus+ call for proposals.
The event primarily targets representatives of higher education institutions from Austria, Czechia, Hungary and Slovakia interested in international dimension of the Erasmus+ programme.
Practical information
The Tempus Public Foundation is happy to welcome you to Budapest. This guide contains practical information on the conference, the venue, and the city. We hope that this guide will be useful and helpful to you. If you still need further assistance, do not hesitate to contact us.
We wish you a pleasant stay!
Venue
(Rákóczi út 43-45., 1088 Budapest, Hungary)
Phone: Tel (+36)1/4775300
Accommodation at the conference venue
Double standard room for single use with breakfast: EUR    82,5-
Double standard room for double use with breakfast: EUR    92,5-
TWIN standard room for double use with breakfast: EUR    92,5-
Room prices include breakfast and taxes.
You can book a room at the venue of the conference, in the beautiful Art Nouveau building of the Novotel Budapest Centrum. Central location, good access to the city centre, to railway stations and to the Budapest public transport system.
Special prices are available for conference participants during and 2 days before/after the conference.
Reservation deadline: 2 November – or until rooms are available.
To reserve a room, please complete the linked reservation form, indicating the chosen room type, and send it to the H3560-RE@accor.com e-mail address.
Arriving in Budapest
Arriving by plane at Liszt Ferenc Budapest Airport
The Liszt Ferenc Budapest Airport is located within the boundary of Budapest, 16 km from the City eastwards.
– By taxi
Only one official taxi company operates cabs from the airport to the city center, called Főtaxi.
Főtaxi has a desk outside of both terminals (2A and 2B), where you can book your taxi.
In Hungary, the taxi decree regulates the price of taxis at a fixed tariff of 400 HUF/km (0,95 EUR/km), in addition to a one-off basic fee of 1000 HUF (2,4 EUR) and a waiting fee of 100 HUF (0,24 EUR) / minute. A ride to the city center should typically cost around 9000-10 000 HUF (24 EUR), depending on traffic conditions.
The cost of the taxi from the airport to Novotel Budapest Centrum should be: ~6800-8500 HUF, or 17-20 EUR, depending on traffic. In these taxis, you can also pay in euros or by card.
– Airport shuttle services
The miniBUD airport shuttle collects passengers at the airport and takes each of them to their hotel, so this takes a bit longer than a taxi. For more information click here: www.minibud.hu/en
Prices: one way from the airport to the venue: ~6800 HUF / ~16,5 €
Return ticket (airport-venue): 12 000 HUF / ~30 €
Arriving by train
The easiest way to get to Budapest is by train. The city has many direct connections with the capitals of Austria, Czechia, and Slovakia.
In case you travel by train to Hungary you can arrive at Keleti (Eastern) or Nyugati (Western) Railway Station.
– Public transportation from Keleti Railway Station Take the metro 2 (direction: "Déli pályaudvar") and get off at "Blaha Lujza tér". The hotel is about 5 minutes from here. (see the map below)
– Public transportation from Nyugati Railway Station Take the tram no. 4 or 6, and get off at "Blaha Lujza tér". The hotel is about 5 minutes from here. (see the map below)
Walkway from Blaha Lujza tér to the venue: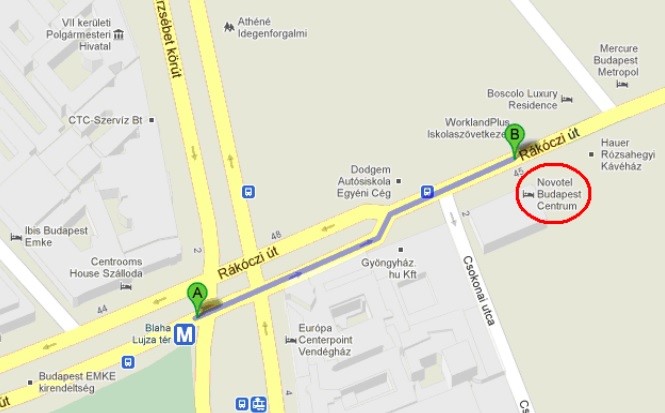 In case you decide to take a taxi, the cost will be around 2500 – 3000 HUF (6-8 EUR), depending which station you arrive to.
Arriving by car
By car from Vienna via the M1 and M7 motorways, continue over the Erzsebet Hid (Elizabeth Bridge) to Blaha Lujza Ter (square).
Conference participants can park in the parking house next to the venue, Novotel Budapest Centrum. The entrance is from Csokonai street. The price is 550 HUF per car per hour or 6600 HUF per car per day.
Coronavirus legislation
Proof of vaccination against Covid is not required for entry into Hungary now. According to the current legislation, it is possible to enter the territory of Hungary by public road, railway, water, and air traffic – regardless of citizenship and protection against the coronavirus –, but other general conditions of entry (e.g. a valid travel document) must be provided.
However, in the case of airplanes, airlines may request a certificate of protection against the coronavirus. Please contact your airline for more information.
Public transport in the city
Budapest has a well-developed public transport network. Trams, buses, and metros will take you almost anywhere in the city.
Tickets of the BKK are valid for the entire public transport network. A single ticket is valid for one hour for one type of service. So with a single ticket, you can hop aboard trams and buses, but if you change to another, you will need to use another ticket. Single tickets can be purchased at the price of 350 HUF from ticket machines or in metro stations or on some bus services from the driver at the price of 450 HUF. 24-hour and 72-hour or weekly travel cards are also available.
For more information please visit the website of BKK (ticket prices, maps, trip planner, timetables): www.bkk.hu/en/tickets-and-passes/prices/
You can buy tickets at every metro stop (nearest one in the underpass of Blaha Lujza ter), some kiosks, newsagents, and ticket machines.
Money and currency
The currency in Hungary is Hungarian Forints or HUF or Ft. One EUR is about 410-415 HUF so 1000 HUF is approximately 2,4 EUR. You can pay in euros at many restaurants, shops, and taxis and shops usually announce their current exchange rate.
10-15% tips at restaurants are welcome when you are satisfied and happy with the service unless service has been already included in the bill.
Commercial and business hours
Shops are generally open from Monday to Friday from 10 am to 6.00 pm – some are open later, especially at department stores and shopping centers. Some supermarkets are open on Sunday as well. Lidl shop on Rakoczi ut, opposite of Novotel is open from 6:30 to 21:00.
Practical information for the conference
Internet access during the conference
Wireless internet will be available in the conference rooms for all participants at Novotel Budapest Centrum. Login and password information will be provided upon arrival at the venue.
Price
The event is free of charge but participants are expected to cover their own travel and accommodation expenses.
You are very welcome to Hungary, enjoy your time in Budapest!
Contacts
For more information about the centralized actions, please contact the ICP (International Contact Point) in your country listed below. If you have a question regarding the event, please contact the Hungarian national agency.
Hosting national agency
HUNGARY
Tempus Public Foundation
Kéthly Anna tér 1.
H-1077 Budapest
Mr. Márton Beke
Ms. Tímea Mester-Takács
timea.takacs@tpf.hu
Co-organising national agencies
AUSTRIA
OeAD
Ebendorferstraße 7
1010 Wien
Ms. Martina Friedrich
CZECHIA
DZS|CZELO
Rue Montoyer 23
1000 Brussels, Belgium
Ms. Bára Křenek Sobotková